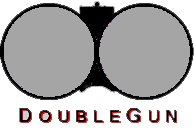 Ben A. Loving
531 Main Street, PMB #518
El Segundo, CA 90245-3060
E-mail: ben@doublegun.com
---
More guns and other good stuff from
Loving Doubles!
---
"Project Guns"
- Winter is too short in California for me to finish these.
(5wu) Ithaca 2E Flues Model 12ga. Steel barrels, mismatched serial numbers This gun has excellent nitro proofed barrels with very nice blue and excellent bores. Ejectors mechanism in action, barrels and forend work. Action shows good engraving with no rust or pitting but there is a little smooth patina. the trigger guard is not shown but I have it some where. Barrels lock up perfectly but some minor fitting of the forend will be required. Stock has about 3" drop, original Ithaca butt plate with duck on it, and there is a repair at the head of the stock and will need some cosmetic restoration. Serial number of action is in 200xxx range and barrels 300xxx range. $550. (pics)
Parker VH Grade #2 frame action complete with good Fajan replacement butt stock. Very good condition - $300
Or buy/trade for barrels to fit.

---
BARRELS
Parker 12ga ejector barrels. 2 sets. One Italian aftermarket. The other sleeved in Italy. Excellent condition. Trade for same without ejectors.
Stevens Arm & Tool Model 350 12 ga (late type) steel barrels - mnfg. 1915-29. 30" F&F. very good bores, 80% blue, some external rust pits. _$100
Several sets of Damascus Lefever, LC Smith and Parker barrels

---
GUN WOOD
Browning Citori (not sure) semi-inleted butt stock 12 ga $50
Browning BT99 Butt Stock with well figured English walnut hydracoil (no insides). Very nice. __ $200 (pics)
Stevens Model 311 forend for 16ga. Tinite __$25
Winchester Model 12
Win M 12 12ga 40s vintage small forend. VG+ condition. __ $35
Win. M 12 28ga large field type forend. Highly figured Bastogne. __ $50
Winchester Model 42 factory forend. VG++ __ $50
Remington Mod. 1100 20ga? forend. VG __$25
Remington Mod. 870 12ga Monte-Carlo Trap Stock (semiinleted) with cheek piece. Some figure. __ $50 (pics)
Claro and Black Walnut 2 piece blanks. Air dried 25 + yrs. Very high figure and lots of color. Generous size - all measure 2 1/4 to 2 1/2" thick and 19 to 20" long. Value $400 - 500 _ $300ea.
Here are a few:
H-1qe(pic) 2 7/16 x 20

H-2qe (pic) 2 7/16 x 19

H-3qe (pic) 2 1/4 x 19 3/4

H-4qe (pic) 2 3/8 x 20 1/4

H-7qe (pic) 2 1/2 x 22 1/2

GUN CASES

Gun Case: Solid walnut takedown case for small bore gun with 2 sets of barrels 28" and 30" or shorter. This custom made case is of best workmanship and materials and suitable for display and protection of the finest guns. Originally made and fitted for a Parker gun with label. The ends are joined with rabbit joints and each side has nicely figured one piece floating panels. The lid has three high quality brass hinges and stops. It is fitted with a leather carrying handle and two latches with combination locks. The inside is finished with red wool felt with compartments for oil bottle, snapcap and screw drivers. Replacement cost would be on the order of $1000. Condition is 99% perfect. Priced at ___ $400 (Pics)
English and Continental Stuff
Stock and Forend wood for FN trigger plate action doublegun. Straight hand English style and splinter FE. Overall condition very good. No breaks, cracks or gouges. Stripped ready for refinishing. Checkering mostly good but worn on one side. Overall length over new 1" solid black Old English Pad is 15.5" for LOP of 14 1/2". Drop at Heel about 2". Has a little figure. Fits either 12 or 16. ___. $150 + shipping

---
Other Good Stuff
Screw-in Chokes - New: $15.00 ea
2 ea. Browning Invector 12 ga IC lead
Winchoke 12 ga Full
Winchoke 12 ga Mod
Remchoke 12 ga Full lead or steel
Mossberg 12 ga mod and full with wrinch -
1 price for all 8 - $75
15 Security Gun Locks 38 cal for revolver $1 ea or $5 for the lot
Gun Parts made to order. Retired machinist will make gun parts to order. Priced on an hourly basis. Firing pins, Ithaca cocking spade, screws, etc. No hand filed parts. Call Dick Onfer (310-640-9809)
All items priced + shipping.
---
Classic American Shotguns
English & Continental Guns
Hammer Guns
Antiques
(more)
---
CONDITIONS OF SALE: On receipt of your check or money order (and hand signed license for non antique guns) your gun will be shipped in no less than five days. The gun may be returned for any reason within five days - no questions asked, providing it is in the same condition as when shipped. Please include $25.00 shipping and handling and 35 cents /$100 insurance. No guarantee expressed or implied except refund of purchase price less shipping.

---

BEN A. LOVING

531 Main Street, PMB #518

El Segundo, CA 90245-3060

Copyright (c) 1997- 2011 The Gun Room,


---