Antique and Classic American Shotguns & Rifles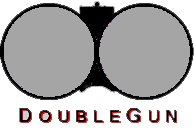 Ben A. Loving
Collector of American Doubles
Antiques-Curios-Relics
Classic & Modern Firearms
---
Baker Firearms Company. Batavia, New York



A.H. Fox Gun Co., Philadelphia, PA

A.H. Fox Stirlingworth Deluxe 16 ga with auto ejectors , 28" barrels with twin ivory beads bored modified and full, excellent mechanical condition, and perfect bores. It is a very pretty little gun in very nice 95% condition. The action retains 90% bright original factory case colors and the barrels 98% original blue. The floor plate has more than the usual amount of engraving and the trigger guard looks to be from an early A grade. The stock has been expertly refinished with hand rubbed oil, and an expertly shaped beavertail forend fitted. Characteristic of Deluxe grade guns the walnut stock is nicely figured and of better quality than normally found on the standard field grade Stirlingworth. Dimensions: LOP over a solid one inch pad is 14"; D@C is 1 1/2"; and D@H is 2 1/2". Weight – 6 lb 8 oz. Serial #370551 (1935). _$2,550 (Pics)


Ithaca Gun Co., Ithaca, NY

L.C. Smith, Fulton, NY

L.C. Smith OE Grade 12ga with 30" Damascus barrels bored full & modified. Good shooter or for restoration. Barrels are good overall with good Damascus pattern going silver, good bores are bright with only the slightest blemishes, and one minor dent. Mechanically sound - locks up tight, locks work well and ejectors work. No case color, no rust but lightly spotted with erosion. The highly figured stock is beautifully refinished, full length with original hard rubber butt plate, and the__ $850. (pics)

Lefever Arms Co., Syracuse, NY

G grade. 12 ga. (SN 40240) with 30" Damascus bbls choked full and full with almost good bores - roughness will clean up - no dents. Gun has been cleaned up and is VG working order. Very good original wood with excellent monogram butt plate and grip cap has been beautifull refinished and checkering recut. No rust or pitting. Good demensions - LOP=14", D@C=1 1/2", D@H=2 3/4". Even brown barrel pattern. A good solid all original gun . Would restore very nicely. __ $900 (pics)

Parker Shotguns, Meriden, CT

Remington Arms Co., Ilion, NY

Remington Model 1900 K Grade 12 ga with 29" fluid steel barrels bored modified and improved cylinder – mint bores. I am convinced these are original 29" barrels. Over all there is about 95% original finish but shows a few handling marks and toning. Slightly faded case colors are about 92% but most remain bright and vivid. Barrel blue remains about 98% with some toning of color. Stock varnish is also 98% with no chips, dents or abrasions. The monogram buttplate is near perfect. About as good as you will ever find in a 120 year old gun - absolutely original in every respect. Weight = 7lbs 2 oz. Stock dimensions: 13½" x 2" x 3". (SN 316505) A true collector quality gun. __$1600. (pics)

Miscellaneous Makes & Models

Winchester Repeating Arms Co., New Haven, CT

Notes: All guns, unless stated otherwise:

1. Have fluid steel barrels
2. Require dealer FFL unless noted as being antiques made 1898 or earlier.

---
Classic American Shotguns

English & Continental Guns

Hammer Guns

Antiques

---

CONDITIONS OF SALE: On receipt of your check or money order (and hand signed license for non antique guns) your gun will be shipped in no less than five days. The gun may be returned for any reason within five days - no questions asked, providing it is in the same condition as when shipped. Please include $ 30.00 shipping and $0.35/100 insurance.

---

BEN A. LOVING

531 Main Street, PMB #518

El Segundo, CA 90245-3060

mailto: ben@doublegun.com

Copyright (c) 1997-2023 The Gun Room,


5/10/2023